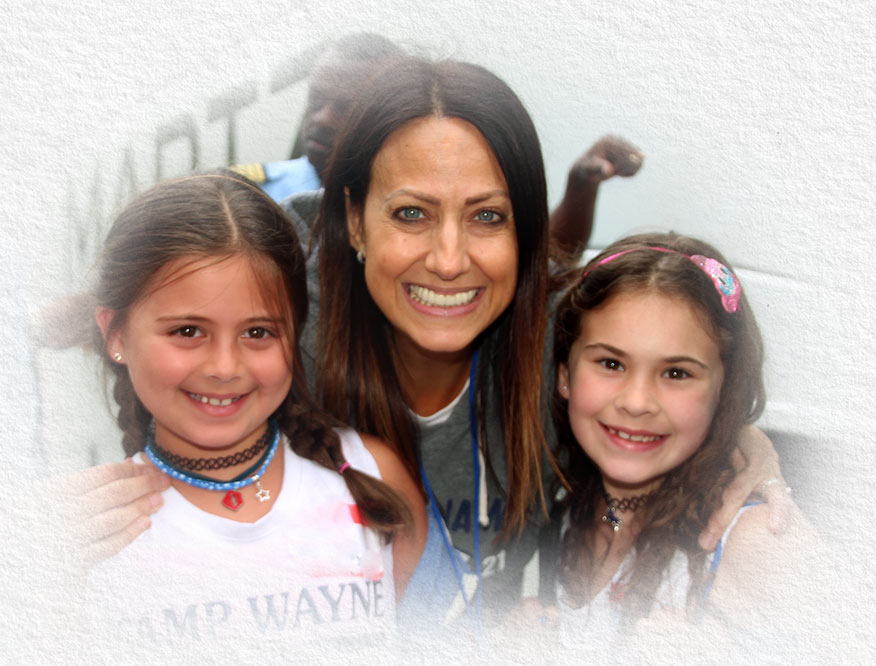 'I Want to Know' is a conflict-resolution program that teaches children how to give and receive feedback.
We encourage our campers and staff to approach one another when they are upset. Campers and counselors sign 'A Nice People Place Pledge' agreeing that they would 'Want to Know' if they did something to hurt someone's feelings.
The IWTK program empowers the girls to speak up and equips them with tools to help them work out disagreements, which are often simple misunderstandings.
Parents Want to Know:
We understand that it may feel overwhelming to send your child away to overnight camp for the first time. We will hold your hand every step of the way, beginning with a personalized tour of the camp led by a Director. We take pride in getting to know every family and provide support to our campers, parents and staff 12 months a year.
Preparation prior to camp
In our January e-mailing, you will receive a Parent Handbook that will answer many of your questions and give you an overview of the planning we will both need to prepare for your daughter's first summer at camp. Included in the handbook is a detailed description of what to pack and what NOT to pack, as well as our packing list ». You will receive a mailing, e-mailing or newsletter every month thereafter until the start of camp.
What if my child doesn't know anyone?
One of the best parts about overnight camp is making new friends! In fact, the majority of our campers don't know anyone before coming to camp. Campers are assigned to a bunk with 10-14 other girls their age. There are 3-4 counselors that live with and care for your child. Our staff is great at making sure campers feel included, loved and respected.
In our winter newsletter, we introduce our new campers so that everyone can begin to familiarize themselves with new faces and learn about their interests and hobbies. In the spring, we host a new camper get-together where Adena plays icebreakers with the girls while Matt has a pow-wow with the parents. If campers don't know anyone on their bus, we can help pair them up with a bus buddy.
Big and Little Camp Sisters
Each camper will be assigned a new big or little camp sister each summer. Big sisters will reach out to the little sisters in June to introduce themselves. It is customary for camp sisters to exchange a small gift when they get to camp. There are several big/little sister activities planned throughout the summer, beginning with WAYNO on the second night of camp.
First Day of Camp
Arrival day is always exciting with lots of cheers and hugs as summer sisters reunite. When campers step off the bus, they will be greeted with a big hug by Adena. A friendly staff member will introduce them to their counselors and bunk mates and they'll spend time getting to know each other. Once every bus arrives, the entire camp gathers around for the Head Counselors to read off the bunk assignments and campers head off to their bunks together for the first time.
Our staff unpacks everything for campers finishing 5th and younger (Junior Camp) and makes up their beds so they can begin enjoying camp from the second they enter their bunk! Beds and cubbies are pre-assigned for all of our campers, including the CITs. We rotate the bed locations for campers in Junior Camp so that they sleep next to someone new each summer. Our Senior Camp campers are able to make requests and we try our best to make everyone happy. Our first meal together is super fun, as campers wait all year to stand on their chairs to sing and cheer in the dining room. After dinner, the fun continues as our Junior Camp bunks play and bond over icebreakers.
Homesickness
Homesickness is a common, normal emotion that most children will experience at some point or another. In the parent handbook we provide parents with tips that they can do to help their child prepare for going away for the first time. Once at camp, our staff is there to help campers work through their feelings of homesickness and become more independent and resilient. Campers are busy from morning to night so there is very little time for them to miss home. By giving them a little extra T.L.C. and keeping them engaged, campers' homesickness rarely gets in the way of them enjoying camp and forming meaningful friendships. Our Community Counselor, who has her masters in social work, is there to help those campers that need a little more support, whether it be homesickness, anxiety, eating issues or problems in the bunk.
Communication and Care
Sending a child to overnight camp is a tremendous act of faith by parents. Parents need to feel comfortable with the Directors of the camp, as they are the ones hiring the staff and setting the tone for the entire camp. As Directors, we are very accessible, mainly because we are a smaller camp with approximately 275 campers. We pride ourselves on excellent communication and feel that the success of our camp community is a result of the time we put into talking with and helping our campers, parents and staff.
We have an amazing leadership team, many of whom have grown up at Camp Wayne themselves, with years of camp experience, loads of energy and lots of love in their hearts. There are three Head Counselors at Camp Wayne for Girls, each one overseeing three age groups. In addition to the counselors that live in the bunk and care for your child, there is a Group Leader for each age group that is responsible for your daughter's well-being and travels with the girls throughout the day. There is also a camp mom that keeps an eye on the younger girls to make sure they are wearing sunscreen, brushing their hair, cutting their nails, changing their sheets and any other 'mom' stuff that the campers (and staff!) need help with day or night.
Prior to camp, your daughter's Head Counselor will reach out to introduce herself and give you her contact information for you to use at any time. If you call or email the Head Counselor, Director or Community Counselor during the summer, it is very likely that they are out on campus interacting with the children so they will get back to you within 24 hours.
There are a total of four camper phone calls, each 10 minutes long, over the course of the summer (two before Visiting Day and two afterwards.) Through your CampInTouch account or Campanion App, you will be able to view hundreds of photos each day, send your child e-mails, and read articles and updates about life at CWG.
Electronics
In a society where many of our children rely on electronic devices as a source of entertainment and a vehicle for socialization, overnight camp is one of the only places where campers can spend quality time interacting with their friends without the distraction of technology. Even with all of the fun activities going on in camp, one of the best things is spending time in the bunk with your friends. The "down times" at camp are a great opportunity for campers to shape the strong bonds that we expect will be formed at camp. Therefore, we don't permit campers (or staff) to engage in any kind of screen play, including texting, connecting to the internet, playing video games/apps, watching TV/Movies, or taking pictures/videos.
Mail/Packages
Parents are encouraged to send hand-written letters and can also send their child one-way emails. Wayne Girls has a no-package policy, including flat packages. The girls have limited space in the bunk and we don't want to put extra pressure on parents to have to go out and spend money on items that they don't really need. The exception is for a Birthday package and necessities if your child lost or ran out of something.
Tutoring
If we have staff members that are willing and able to tutor your child during their free time we would be happy to arrange it. The cost of tutoring depends on the subject matter and the age and background of the tutor. Tutoring happens outside of normal activity periods (typically after lunch during Rest Hour) so your daughter will not miss any camp activities.
Optional Jewish Services
Friday evenings before dinner, we offer Jewish services to campers and staff. The services are optional and no special attire is required.