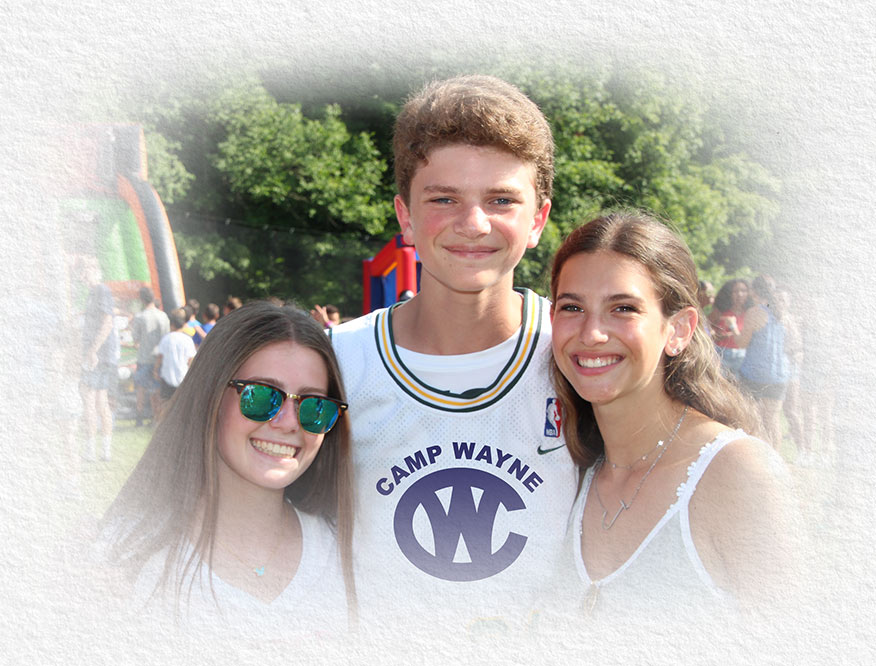 Camp Wayne for Girls is the sister half of a true brother-sister camp situated across the lake from Camp Wayne for Boys.
We work closely with our cousin, Josh Corpuel, Director of Camp Wayne for Boys, over the year to develop a fun-filled co-ed calendar. We like to say that our kids have the best of both worlds: a daily program where the focus is on friendship and skill building and an evening program that includes organized and age appropriate co-ed activities, the frequency of which increases as the children get older. Our younger campers are just fine with that because as you know, boys have 'cooties!'
In addition to our co-ed drama program, campers socialize at events throughout the summer like Carnival, Discos, Crazy Games and Shows among others. Many of our trips for older campers (entering 9th-11th grade) include the boys' camp. All of our reunions and alumni events are co-ed as well.
Siblings at Wayne Boys
Girls who have a brother and/or cousin at Camp Wayne for Boys visit each other one to three times a week. In addition to spending time together before all-camp co-ed activities, there are several opportunities for siblings to see each other, such as the brother/sister picnic swim, July 4th Fireworks, Carnival and more. Sisters and brothers celebrate birthdays together and we can also arrange for special visits when a child just needs to see a familiar face from home. Camp Wayne for Girls and Boys share transportation to/from camp and on Visiting Day we shuttle parents between the two camps throughout the day.