We go all out when it comes to evening activities and special events at Camp Wayne for Girls. We love to dress up, blast music, play, dance and be silly. Our staff and older campers model that it's cool to act like a fool at CWG!
Campers look forward to our wacky special events and creative rainy day activities. The real fun begins after dinner, with a new and exciting evening activity planned every night of the summer. In addition to our all-girls' camp activities, we also organize co-ed events with our brother camp from individual group socials to outside entertainers, discos and in-house musicals.
Camper favorites include:
WAYNO
The NewlyWayne Game
Wheel of Fortune
Sounds of Wayne
Night at the Races
Rockstar Karaoke
Carnival
Hypnotist Show
Lip Sync Battle
Group Dance & Cheer Night
Panic
Messtival
Backwards Day
Escape the Bunk
July 4th Disco/Fireworks
Tennis Carnival
Crazy Kooky Counselor Contest
Potpourri
Bunk Decorations
Project Funway
Group Song & Skit Night
Simon Sez
A Glimpse Inside Summer 2019
YEARBOOK VIDEOS
Every activity is fun at camp – but we think these events are extra special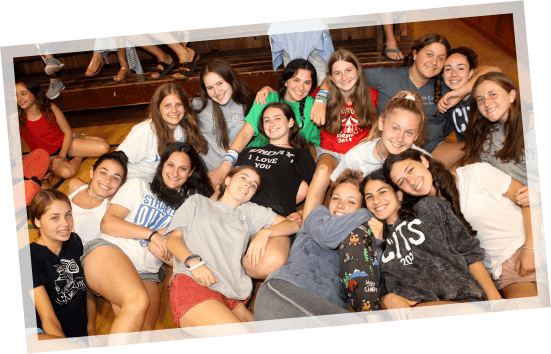 Creative Service
While most of our nights are exhilarating, Friday night Creative Service is a time to relax and reflect. This values-based activity fosters a sense of community as campers and staff come together to share, learn and grow. Each week a different age group presents a creative service to the entire camp. They select a theme, such as peer pressure, respect or self-acceptance and present poems, skits and songs that portray messages related to their theme. Every Creative Service ends with our camp alma mater and a guitar accompanied sing-a-long. Campers always leave Creative Service with a warm, fuzzy feeling.
Tribal League
Tribal begins with a fun opening ceremony where captains are chosen and the entire camp is divided into four teams: Red Fire, Blue Water, Green Earth and Yellow Sun. Campers participate in a different Tribal event each week, such as Scavenger Hunt, Aqua Day and Watergun War. Teams also have friendly competition in sports, tennis, gymnastics and dance. Tribal ends with a meaningful closing ceremony that takes place around the campfire at our amphitheater.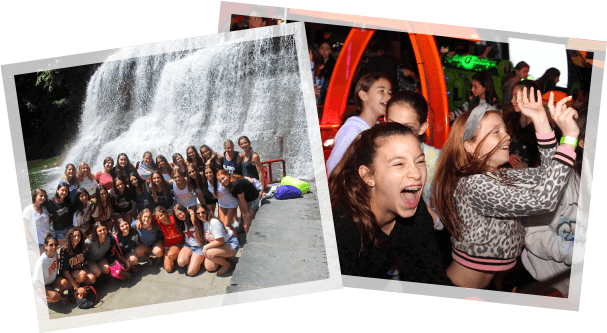 Big Trip
Each group has a 'Big Trip' at the end of the summer, consisting of a day trip for our younger campers, an overnight trip for campers finishing 6th and 7th grade, a co-ed three day trip for our 8th and 9th graders, and a co-ed four day excursion for our 10th graders (CITs). Every year campers travel to a new destination such as Dorney Park, Hershey Park, Niagara Falls and Ocean City, MD.
Color War
The most anticipated event of the summer is our traditional, four day Color War with emphasis on good sportsmanship, spirit and creativity. Our team/camp colors are buff (white) and blue so you can often hear the girls chanting 'Buff and Blue – what an awesome two! Blue and Buff – together we are tough!'
Kicking it off with a surprise "break out," Color War is jam-packed with sports games, swim/gymnastics meets, tennis matches, a dance and cheer competition, team banners, dining room decorations, songs, Bucket Brigade, Rope Burning, Hatchet Hunt and The Wayne Relay. The four day battle culminates with 'Big Sing' where teams present an entrance song, skit and alma mater.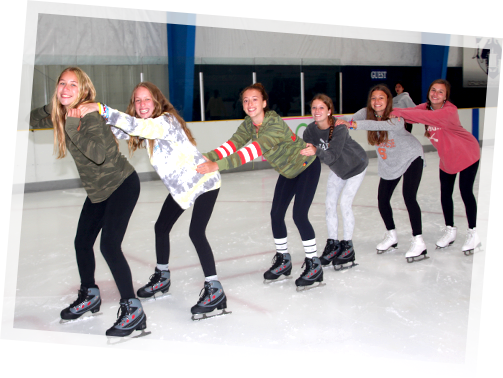 T.L.C.
As our campers get older, we always want them to have more options and something to look forward to in the program. 'Teens Leave Camp' (TLC), is an optional program specially created for our teen camp (girls that have finished 8th-10th grade). Specialty programs and trips are offered throughout the summer, some of which take place on campus. Each year we like to introduce at least one new and exciting TLC workshop on top of the more popular ones, like ice skating, mountain biking, hiking, farm-to-table and a visit to a local business that handcrafts chocolate from ethically sourced cacao beans.